Are You Experiencing:
Depression or Anxiety
Difficulty in making decisions
Career or relationship problems
Problems dealing with a physical diagnosis
Improve Your Sense of Well-Being
Lori A. Futterman RN, Ph.D. treats sexual health and mood difficulties in San Diego, California. Read her bio to find out more about her background and training. Whether you're struggling with depression or anxiety, or are concerned about intimacy and  sexual issues, Dr. Futterman is here for you. She helps people of all genders and sexual orientations to live happier, more productive lives.
Reviews from HealthGrades.com
Dr. Futterman is extremely knowledgeable, highly educated, very reliable and exceptionally insightful. Her approach is particularly effective as she empowers her clients to achieve clarity and well-being using efficient stress/anxiety relieving techniques. I recommend Dr. Futterman unconditionally. 
Dr. Futterman is an excellent therapist. She is highly skilled, compassionate, and intuitive. She is focused and direct. She uses an array of counseling techniques to assist her clients in successfully addressing the issues they face, with the goal of happier, healthier lives. She is by far one of the best therapists I have ever gone to.
Extraordinary Doctor

I have been working with this Dr. , periodically, for over 7 years. She is a gem of doctor, very professional and intelligent. I have been working with complex emotional issues and Dr Futterman is the best psychologist that I have encountered. She is well versed in many forms of therapy. She is going to help you tackle issues in your life without coddling, but with caring attentive therapy!
Excellent

Have used Dr Futterman over the last few years for transitioning through divorce. She utilizes techniques that have helped me with anxiety, food issues, toxic work environment and interpersonal relationships. She is well spoken with a sense of humor, compassionate and willing to advise on different techniques dealing with grief. Would and have recommended her with high grades.
NEWSLETTER
CLICK HERE to view or download the most recent newsletter.
Sign up to receive free updates on Women's Health, Sexual Health, PMS and Perimenopause. Use form on Contact Page and use subject "Newsletter."
PMS, PERIMENOPAUSE & YOU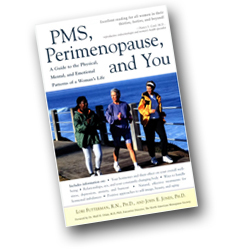 Available on Amazon.com
PRIVACY
Names and personal information will be kept confidential to Dr. Futterman, and will not be sold or given to other individuals or organizations.