PMS, Perimenopause, and You
A Guide to the Emotional, Mental, and Physical Patterns of a Woman's Life
As a result of ongoing hormonal changes, a woman's body is in a constant state of flux during her lifetime. These changes can affect mood, ways of thinking, sexual functioning, energy level, sleep patterns, appetite, and self-perception.
PMS, Perimenopause, and You will guide you through these myriad of changes by providing you with valuable information on getting the most effective treatment through psychotherapy, nutrition, exercise, and other alternative methods, and achieving an equilibrium among the physical, mental, social and spiritual aspects of daily life.
This book will help you take proactive steps toward improving your emotions, thinking, and physical symptoms.
Authors:
Lori A. Futterman, R.N., Ph.D.
John E. Jones, Ph.D.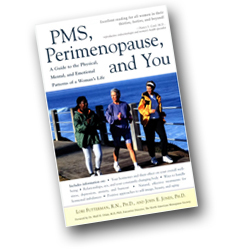 Reviews from Amazon
This is the second copy of this book I have bought. I loaned the first copy to a woman who thought she was in perimenopause and never got it back. This book is a practical guide to help women recognize and deal with difficult issues in their life–premenstrual symptoms and "the change." It is a useful read for all women.
I thought it was interesting and easy to understand. I like how she breaks down the ovary life cycle and the effects of the different hormones.